In the highly competitive world of medical education, staying ahead of the curve is crucial for aspiring doctors. With the advent of online learning platforms, students now have access to a vast array of resources to aid their exam preparation.
Among these, Cerebellum Academy stands out as a premier subscription-based online platform, providing comprehensive preparation for NEET-PG, NExT, FMGE, and INICET aspirants.
NEET-PG is an eligibility-cum-ranking examination prescribed as the single entrance examination for admission to various MD/MS and PG diploma courses. It is a computer-based exam conducted by the National Board of Examinations (NBE) consisting of 300 multiple-choice questions (MCQs) with a single response. The duration of the examination is 3 and a half hours.
How To Get Maximum Discount?
Use coupon code MED123 to get the maximum discount on the Cerebellum Academy premium plans for NEET-PG/NExT and FMGE exam preparation.
Log into the Cerebellum Academy app.
Register your account with the necessary details.
Select your premium plan – NEET PG or FMGE.
Choose the pack duration – 1, 2, 3, 4 or 5 years.
Use coupon code MED123 to get flat ₹1000 off.
Finalise your purchase.
NOTE: This is the maximum discount that's provided by Cerebellum Academy on their premium plans. So there's technically no point searching and trying multiple codes. Make sure to use the above code before it expires!
Cerebellum Academy Plans for NEET PG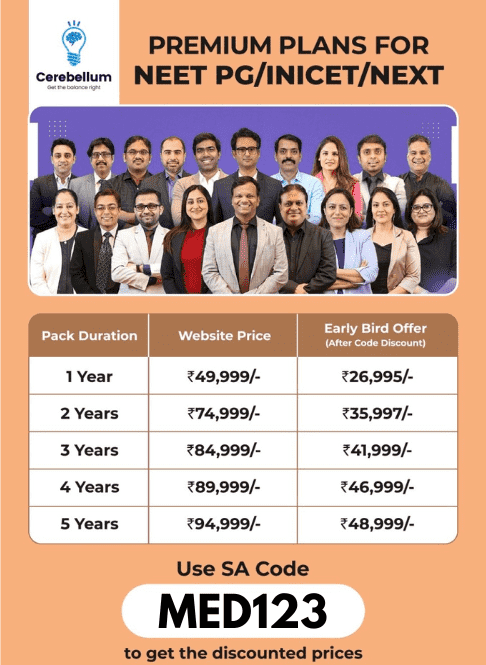 Cerebellum Academy Plans for FMGE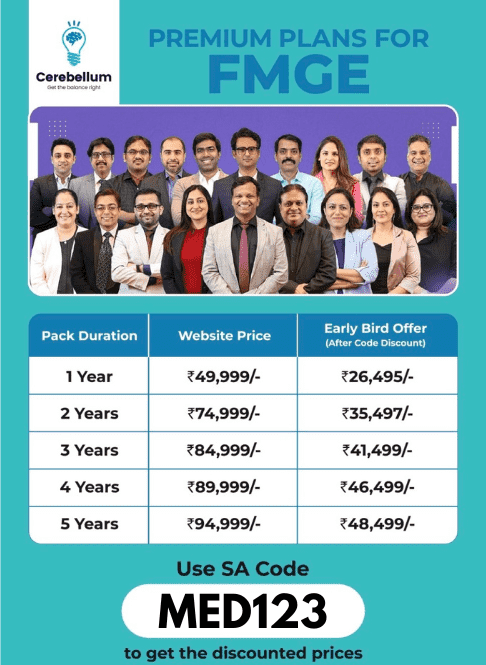 Cerebellum Academy Plan for First Prof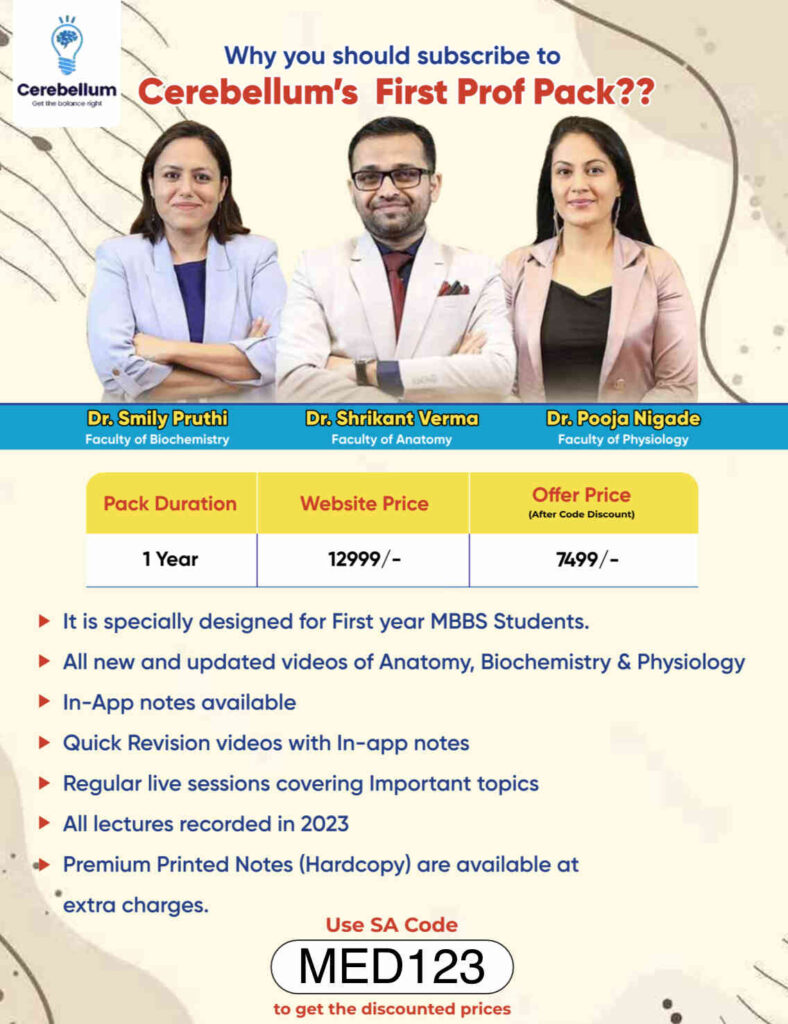 Cerebellum Academy Plan for Second Prof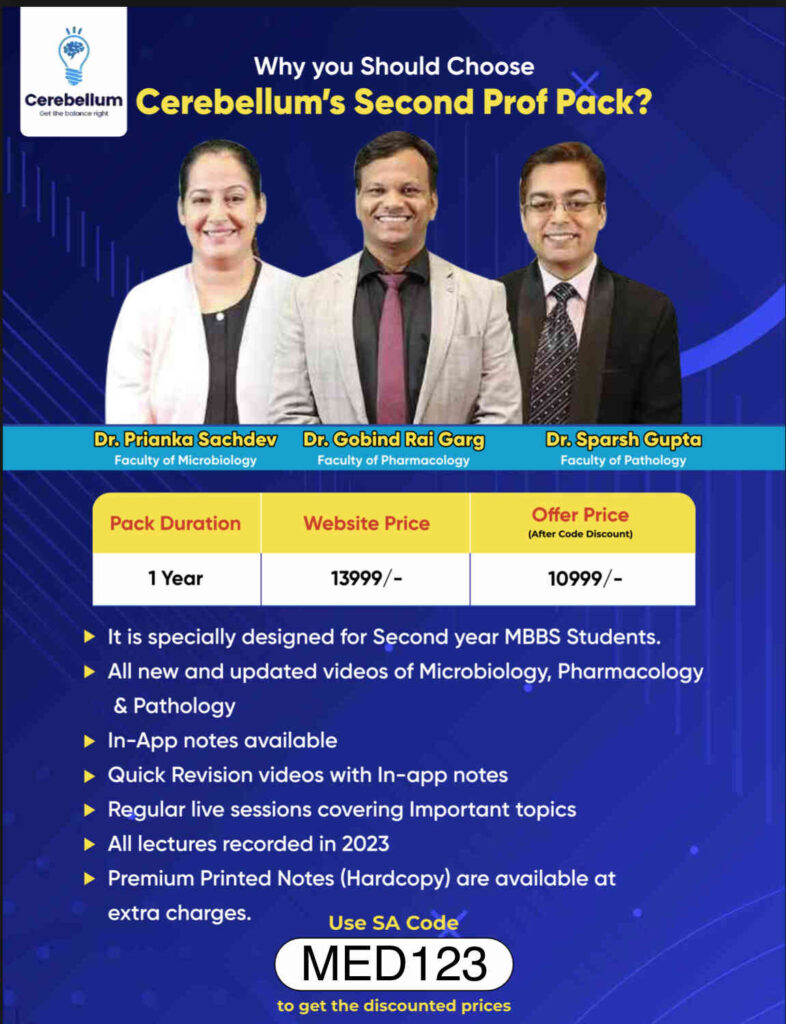 Benefits of Cerebellum Academy Subscription
Comprehensive Video Lectures
Cerebellum Academy offers a vast library of high-quality video lectures covering all the subject-wise essential topics required for NEET PG preparation.
These video lectures are designed by experienced medical professionals and subject matter experts to provide in-depth understanding and clarity on complex medical concepts.
My personal favourite is Dr Gobind Rai Garg sir. Who is your favourite?! ❤️
The comprehensive nature of these lectures ensures that students can access all the necessary information conveniently at their own pace.
It might look extensive but don't worry, it's much more concise than other platforms. Everything necessary is included.
Question Banks and Practice Tests
One of the crucial aspects of NEET PG preparation is rigorous practice and self-assessment.
Cerebellum Academy provides a wide range of question banks and practice tests that mirror the actual exam format.
These questions are curated by analyzing previous year papers and incorporating frequently asked topics, ensuring that students get exposed to the right set of questions to enhance their problem-solving skills and exam temperament.
Mentorship by Top-Notch Faculty
Cerebellum Academy boasts a team of highly qualified and experienced faculty members who are specialists in their respective medical fields.
Students have the opportunity to receive personalized mentorship and guidance from these experts through Cerebellum Academy's YouTube channel.
Through their live face-to-face interaction, students can clarify their doubts via the chat box, receive expert insights, and gain valuable tips and tricks to excel in the NEET PG examination.
Online Live Sessions
To foster an interactive learning environment, Cerebellum Academy conducts regular live sessions, both on its app as well as on its YouTube channel.
Live sessions allow students to engage directly with the faculty and fellow learners, promoting active participation and a sense of community.
These live sessions may include question paper recall, strategy-building sessions, topic discussions, tips and tricks, and special interviews with students who have already cracked the exams.
Community Engagement
Cerebellum Academy promotes a vibrant and supportive community of aspiring medical professionals preparing for NEET PG.
By creating a healthy and supportive environment, students can interact, share their knowledge, and seek help from their peers.
Community engagement nenhances learning and provides emotional support and motivation during the challenging preparation period.
Conclusion
In conclusion, a subscription to Cerebellum Academy's premium plans comes with a plethora of benefits.
From comprehensive video lectures to extensive question banks, practical mentorship to interactive live sessions, and a thriving community, the platform offers a holistic approach to help medical aspirants achieve their goals and excel in the NEET PG examination.
According to me, Cerebellum Academy is one of the best medical coaching apps. It's a game-changer!
Use coupon code MED123 to get the maximum discount on the Cerebellum Academy premium plans for NEET-PG/NExT and FMGE exam preparation.