Hey there, future doctors! 🩺
If you've been navigating the vast sea of NEET PG preparation, you're probably swamped with a plethora of online coaching options, each claiming to be the one. 🌊
But have you come across the name 'Cerebellum Academy' yet? It's creating quite a buzz in the medical student community! 🚀
Let's embark on this journey together, dissecting what the academy offers, its features, and whether it truly stands out in the crowded online coaching space.
Cerebellum Academy presents itself to be tailored for medical students. But is it any good for NEET PG preparation? Let's dive in. 🔍
NEET-PG serves as the sole entrance test for admission into multiple MD/MS and PG diploma programs. This computerized exam, overseen by the National Board of Examinations (NBE), features 300 single-response MCQs and spans 3.5 hours.
Planning to purchase Cerebellum Academy plans? 🧐 Guess what? 😳 After talking with the team, I've secured an exclusive deal just for my readers! 🎉 Use code MED123 and unlock the MAXIMUM discount! 💰 Happy learning! 📚🩺
Comprehensive Review: Cerebellum Academy
For NEET PG and FMGE aspirants, Cerebellum Academy seems to offer a comprehensive package. Its unique blend of lectures, notes, question banks, live sessions, and mentorship ensures students get a 360-degree preparation. The features and dedication of Cerebellum Academy undoubtedly make it a strong contender in the online PG coaching arena.
Navigating the medical educational space can be overwhelming, with numerous online platforms promising success. Cerebellum Academy has emerged as one of the contenders in this arena, especially for NEET PG aspirants. Let's dive deep into its features, app usability, and pricing.
Features
Engaging Video Lectures
The Cerebellum Academy app offers detailed lectures covering all 19 subjects, designed in accordance with the clinical pattern of upcoming exams. They emphasize past-year questions (PYQs) and highlight critical topics. 🎯 This strategy ensures a student builds solid concepts and knows where to focus. 🔍
The depth and clarity of content in these videos are commendable. Topics are explained in detail, yet in an engaging manner, ensuring retention and comprehension.
Comprehensive Question Bank
Here's where Cerebellum Academy shines. Their Q bank is not only vast but also meticulously designed, reflecting the changing patterns of the exams and emphasizing past year questions.
Periodically, the app rolls out Grand Tests, simulating the real exam environment. These tests aren't just a measure of your preparedness but a golden opportunity to gauge your strengths and areas for improvement. So, pull up your socks and challenge yourself! 🚀🧠
Integrated In-App Notes
After a lecture, you don't need to break your head to make your own notes. The platform provides concise notes based on the video lectures. This facilitates faster and more efficient revision.
Alternatively, one can also purchase a hard copy of the notes separately. 📚
Interactive Online Live Sessions
A blend of recorded and live sessions strikes a balance. Regular live sessions on the app foster teacher-student interaction. They focus on pivotal, high-yield topics, often those that students grapple with.
These sessions provide strategic direction, and revision guidance, and enlighten students on the MCQ-solving approach.
Personally, I feel they add a personal touch to the digital learning experience. ❤️
Expert Guidance & Mentorship
The faculty at Cerebellum Academy aren't just teachers; they're mentors. Drawing from years of medical teaching experience, they are equipped to guide students through challenges.
This holistic mentorship approach ensures that students are not just academically prepared but also mentally ready for the challenges of the entrance exams. 💪
Dr. Zainab Vora's Exclusive BTR Series
A jewel in Cerebellum's crown, Dr. Zainab Vora's exclusive program targets high-yield and volatile topics ensuring in-depth understanding.
Being a part of the premium pack, it ensures students get a holistic grasp. BTR actually stands out as one of the app's unique selling points. 👏
ORR – Original Review & Revision Course
For those in a time crunch or needing a quick brush-up, the ORR course is ideal. These are concise quick revision videos for all 19 subjects.
The quick revision videos are a boon for last-minute preppers. They cover key points efficiently, ensuring that even if you're short on time, your preparation isn't compromised. ⏳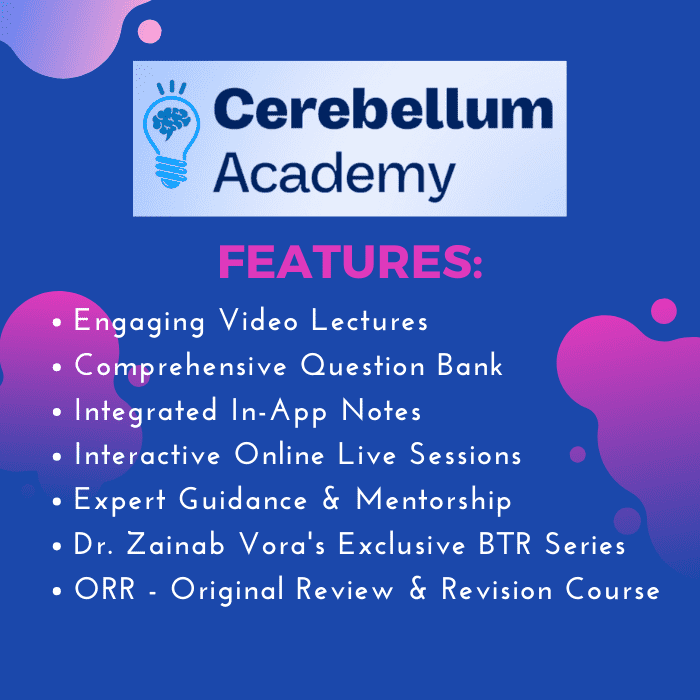 User Interface and Experience (UI/UX)
Upon launching the app, the design appears intuitive and modern. The colour palette is easy on the eyes, making prolonged use comfortable. 👀
Navigating between sections is smooth, and there's minimal lag, ensuring that users don't face interruptions during study sessions. ✅
App Performance and Reliability
The app seems stable, with infrequent crashes. Loading times are swift, be it for videos, MCQs, or notes. However, like any other app, a stable internet connection is pivotal for uninterrupted access. 🛜
Pros and Cons
One thing to note is that the teaching style, pace, or methods might not resonate with every student. Personal preferences play a significant role in online learning.
What works best for one student might not be ideal for another. As such, it's better if students watch a few lectures from the faculty (available for free on the Cerebellum Academy YouTube channel) before fully committing.
Pricing
The following plans are available for purchase on the Cerebellum Academy website or app:
Mission 200+ FMGE (Main videos + Live lectures + RR videos + QBank + BTR all-inclusive) for 6 months
Mission NEETPG/INICET + Premium plan (Main videos + Live lectures + RR videos + QBank + BTR all inclusive) for 7 months
Premium Plans (Mission NEETPG/INICET + Main videos + Live lectures + RR videos + QBank + BTR all-inclusive)
Pharmacology By Dr. Gobind Rai Garg
BTR Online By Dr. Zainab Vora
First Prof Pack
Second Prof Pack
First + Second Prof Combined Plan
Here is the price of the above plans:
NEET PG Premium Plans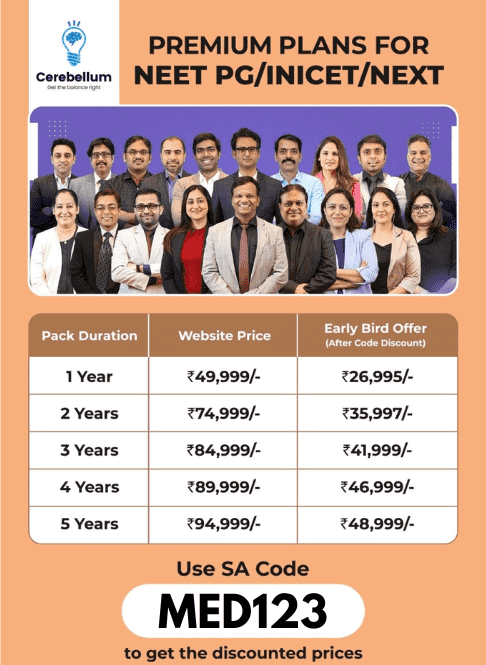 FMGE Premium Plans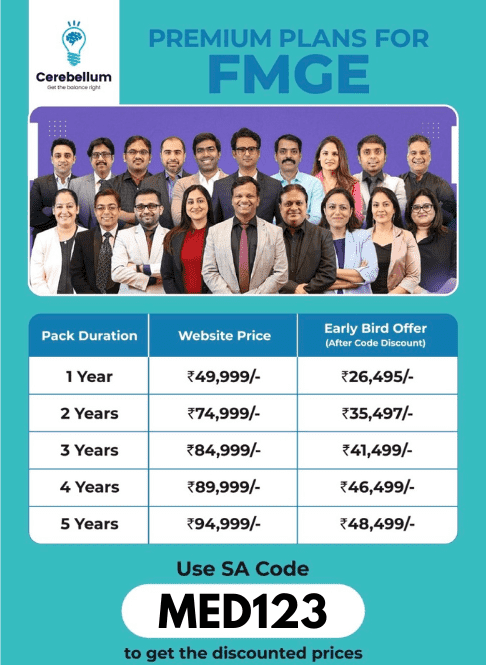 First Prof Pack
Second Prof Pack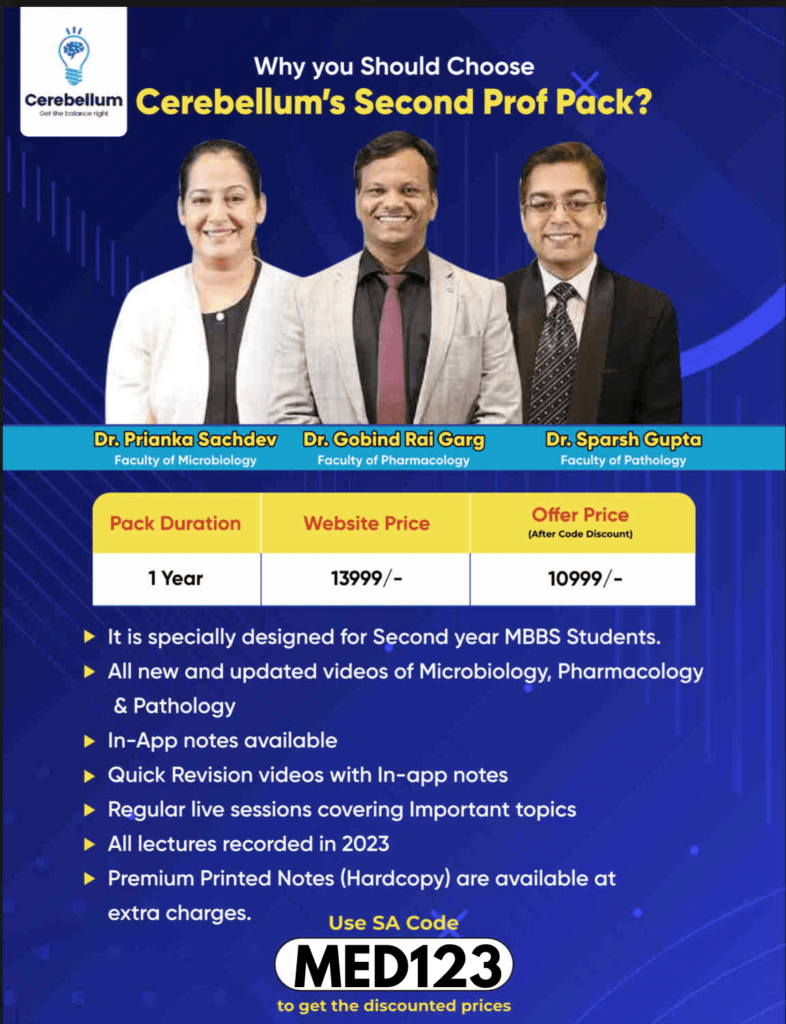 First and Second Prof Combo Pack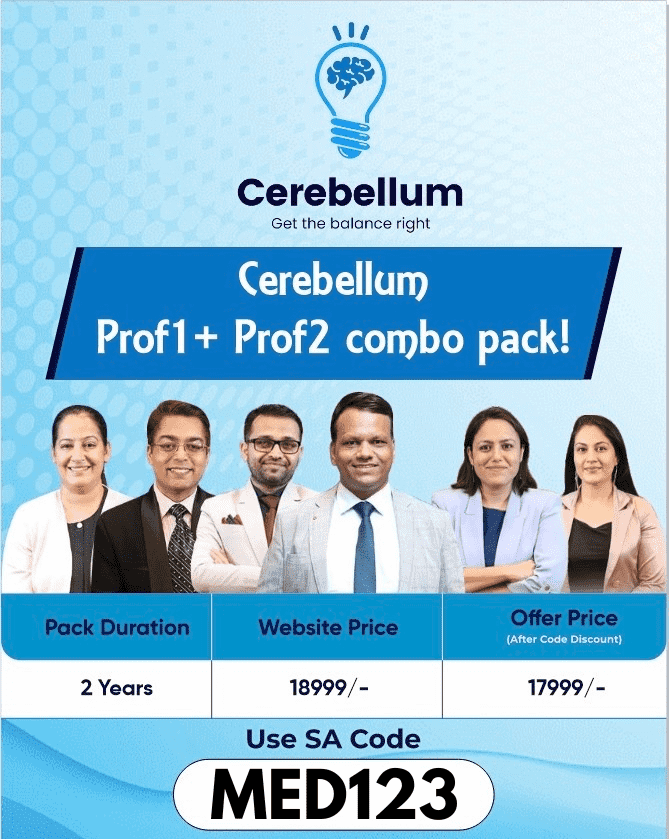 Is Cerebellum Academy Good for NEET PG?
Cerebellum Academy showcases an impressive blend of quality content (video lectures, notes, MCQs), innovative teaching methods, and student-centric features, making it a good choice for those gearing up for NEET PG. All in all, it stands out as a worthy contender in the crowded online medical coaching space.
Cerebellum Academy Coupon Code
Here's how you can get the maximum discount:
To get the maximum discount on the Cerebellum Academy premium plans, use the coupon code MED123. 
Log into the Cerebellum Academy website or app.
Register your account with the necessary details.
Select your required plan and choose the pack duration.
Use coupon code MED123 to get flat ₹1000 off.
Finalise your purchase.
⭐️ NOTE: This is the maximum discount that is provided by Cerebellum Academy on their premium plans. Make sure to use the above code before it expires!
Student Testimonials
Hearing firsthand from those who have experienced Cerebellum Academy's offerings can provide valuable insights for prospective students.
Here are some authentic testimonials from students who have benefited immensely:
Cerebellum Academy Team
These are the teachers at Cerebellum Academy:
| Subject | Faculty |
| --- | --- |
| Anatomy | Dr Shrikant Verma |
| Physiology | Dr Pooja |
| Biochemistry | Dr Smily Pruthi |
| Pharmacology | Dr Gobind Rai Garg |
| Pathology | Dr Sparsh Gupta |
| Microbiology | Dr Priyanka Sachdev |
| PSM | Dr Vivek Jain |
| Ophthalmology | Dr Gaurav Nagpal |
| ENT | Dr Praneeth Kumar Koduru |
| Forensic Medicine | Dr Atul Gupta |
| Medicine | Dr Dilip Kumar |
| Surgery | Dr Amrit Nasta |
| Pediatrics | Dr Anand Bhatia |
| OBG | Dr Raina Chawla |
| Orthopedics | Dr Apurv Mehra |
| Psychiatry | Dr Praveen Tripathi |
| Radiology | Dr Zainab Vora |
| Dermatology | Dr Maddineni Srinivas Kumar |
| Anesthesia | Dr Jhanvi Bajaj |
My personal favourites are Dr Gobind Rai Garg and Dr Shrikant Verma. ❤️
---
Goodluck Medicoholics! Until next time.