NEET aspirants often feel overwhelmed, and trapped in a never-ending maze. As a result, they are always looking for inspiration. 😔
Motivational quotes can help them push through difficult times. 💪
Here are some of the best motivational quotes for aspirants preparing NEET 2024 & 2025. It will help you stay encouraged and help you focus on your goal of bagging an MBBS seat in a reputed college.
I'm a current medical student and a former NEET aspirant so I've been in your shoes and know the amount of preparation, stress, and struggle one goes through in that phase. 🤝
I hope these quotes motivate and inspire you to do your best. Good luck! ❤️
You get what you focus on. So focus on what you want.
Staying focused while you're studying is a big challenge that everyone faces.
One of the biggest challenges is procrastination and time management.
Keep yourself focused on what really matters, create a good routine, and follow it diligently every single day.
When you're losing motivation, just remember how amazing you'll look in the white coat.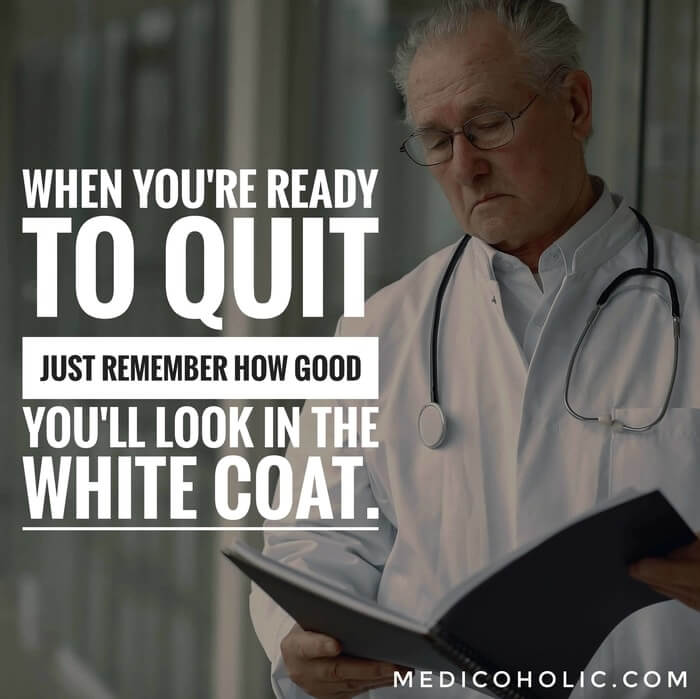 Don't ever lose hope. You need to stay consistent in your preparation. It takes time but trust me, it'll be worth it in the end. When you're planning to quit, think about why you started in the first place.
Imagine yourself graduating from your medical college. Imagine yourself in the white coat with a stethoscope around your neck. Imagine saving someone's life.
An exam like NEET which is tough demands consistency, don't think of giving up.
Consistency makes one aware of perseverance and pushes one towards achieving excellence.
Make yourself proud one day.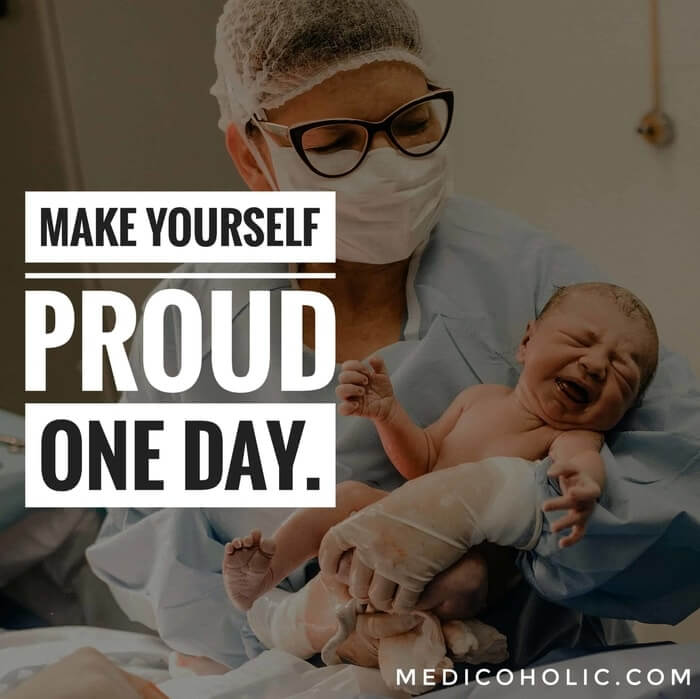 One day you will alleviate distress or disease in a patient and in return gets to see a smile and relief on his/her face.
After you've successfully become a doctor, your day will be completely filled with such incidents and moments.
Their one smile is enough to make your day.
And this is exactly what will help you keep going, despite all odds.
Imagine how proud you will feel once a patient leaves the hospital disease-free. Blessings from them will always keep you motivated to help and serve humanity.
Crack NEET, give it your best shot and become the best doctor that society deserves.
Make your dream your reality.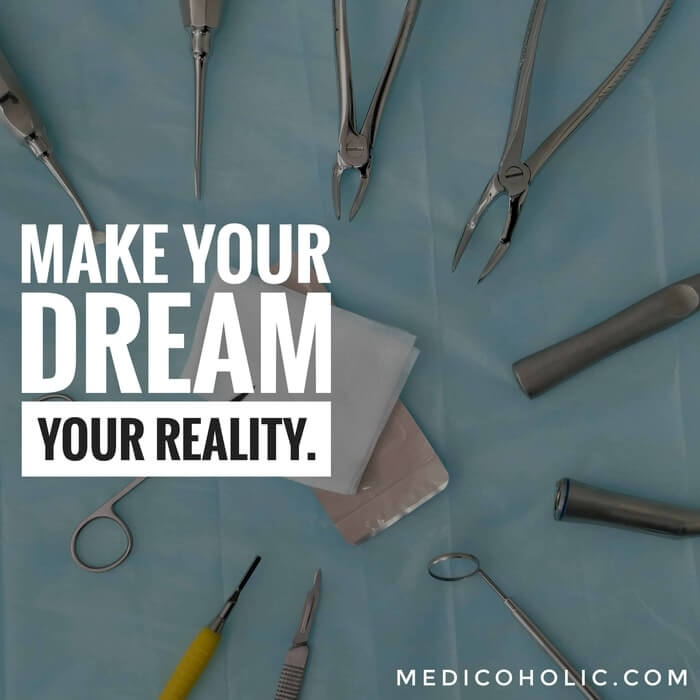 Dreams never work unless you do.
And if you work hard enough, you can convert your dreams into your reality.
To achieve what you really want and to be successful, you need a combination of two things, a dream, and dedication.
Grind now and shine later.
Hard work is the one and only recipe for success.
Achieving your goal requires dedication and hard work. Keep yourself focused and don't get distracted.
There's no short cut for success.
According to statistics by NTA (National Testing Agency), the competition is extremely high (almost 20+ lakh students appear for NEET every year) hence you need to stay ahead of everyone significantly in terms of your preparation.
It's important to be consistent and keep going with full determination. Good luck.
As a medical student pursuing MBBS myself, I've been in your shoes and know the amount of preparation, stress, and struggle one goes through in that phase. In this eBook, I talk about the strategies aspirants need to follow to crack NEET with flying colours. It's a natural and human tendency to lose motivation and inspiration from time to time. Throughout this guide, I show you how you can stay focused and consistent in the best possible manner.
"I did it" sounds much better than "I could've done that".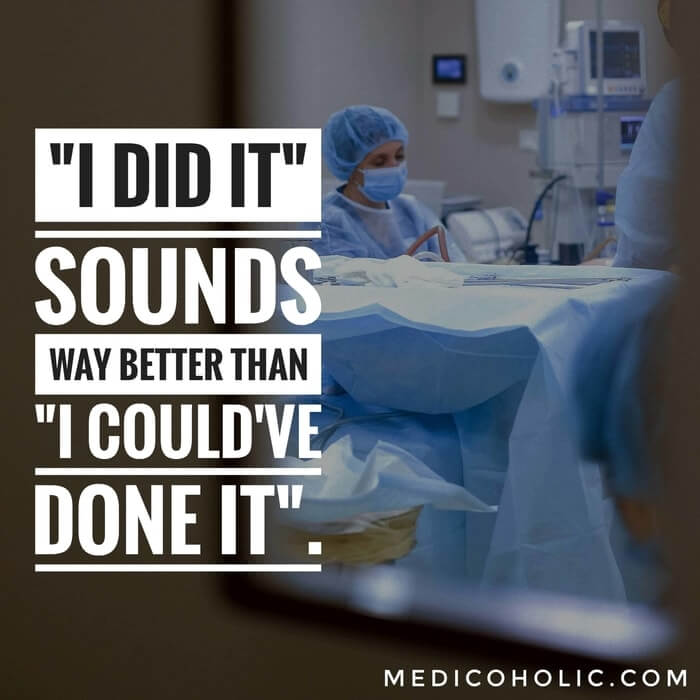 A 3 hour paper with 180 questions is going to judge your entire one or two years of preparation.
Give it your best shot.
And please don't compare yourself to others, everyone is unique and has their own ways of learning.
Figure out what works best for you and ace NEET. Best wishes from my side.
My stethoscope is my one and only jewellery.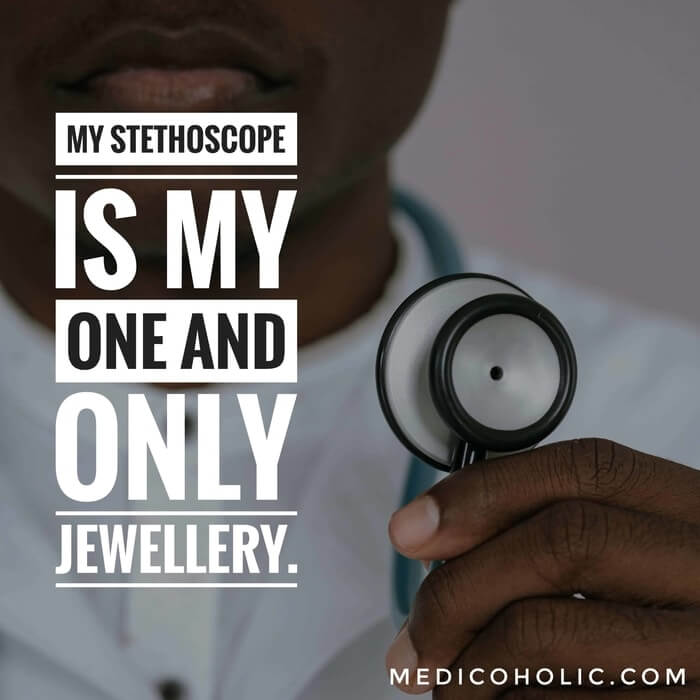 What's a stethoscope? Just an instrument, right?
Only a doctor will know it's cost. It's the most expensive jewellery for a doctor. Why? Because it cost them their youth and hard work.
A long and tiring undergraduate (UG) course like MBBS coupled with a postgraduate (PG) course is no joke.
A stethoscope is the one and only jewellery which cannot be bought with mere money, it's earned… It's earned by putting in a lot of hard work and effort.
It's a jewellery with tons of responsibilities.
Take this as an inspiration and prepare for the medical entrance examination (NEET) with confidence and consistency.
Helping other people in their most vulnerable times is a privilege.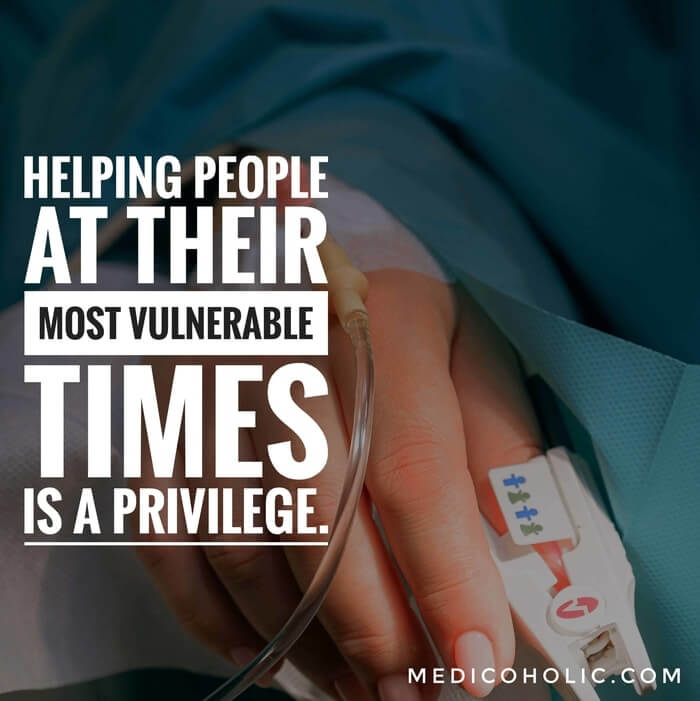 Medicine is a noble profession. Doctors are the most respected people in society. Because they're selfless and care to serve the people without being greedy for money.
I'm a medical student and if you ask me, to be able to help the less fortunate is one of the best forms of giving back to society.
Ask yourself on a daily basis "how badly do you want it?"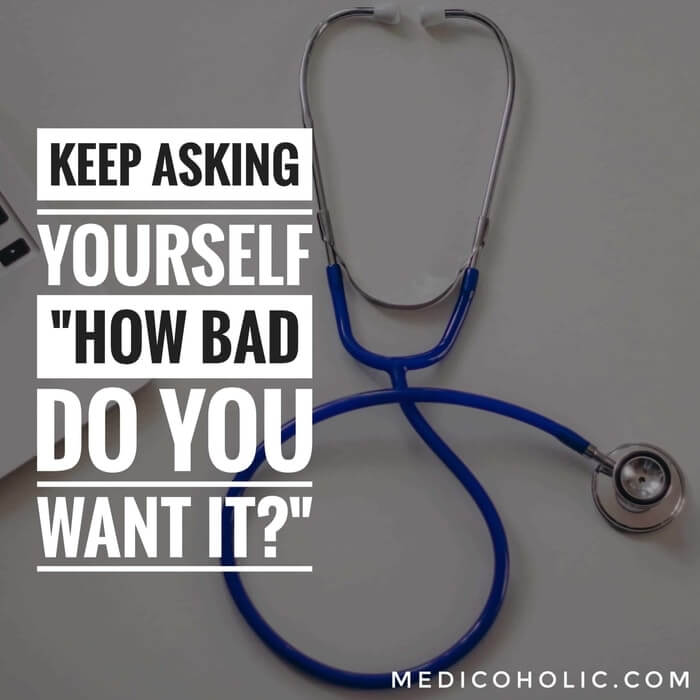 If you really want it, then you'll have to work for it. As simple as that. Nothing comes easy. If something was relatively easy to get, everyone would have that, right?
Ask yourself on a regular basis "How bad do you want it?"
Keep your priorities straight and set your goals high. I hope you get amazing marks in NEET to pursue MBBS in top colleges.
If you don't sacrifice what you've always wanted, what you've always wanted will become the sacrifice.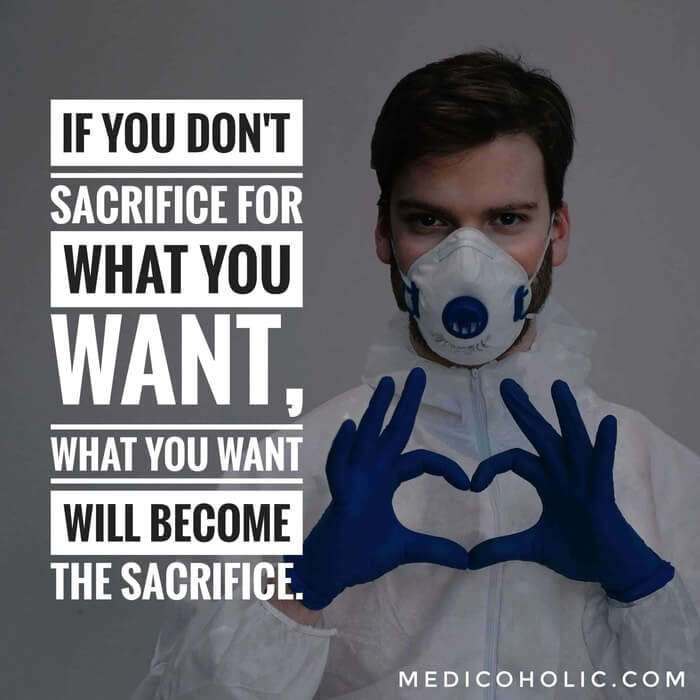 If you want to crack the NEET exam, you will have to completely devote yourself to studies. Stay motivated and work hard.
You need to sacrifice something to get something. Be it sleep, sports, entertainment, or social media. By that, I don't mean that you have to cut down on these completely, absolutely not.
Having a fine balance is very important.
Know when to study and when to take a break. Good luck with your examination!
If you're not ready to put in efforts, no one can help you. But if you're determined to put in efforts, no one can stop you.
One thought which strikes every NEET student's mind is "It's so difficult to get a good rank in NEET, will I even be able to do it?". Instead of worrying and doubting your preparation, you should approach this thought from a different perspective.
The same thought should pump in you the energy to work harder to achieve what you really want and conquer your dream.
If you want to be ahead of everyone else, you have to work harder than everyone else.
My favourite necklace is my stethoscope.
I was born to save lives.
Keep working hard, until the day you can finally say "scalpel please".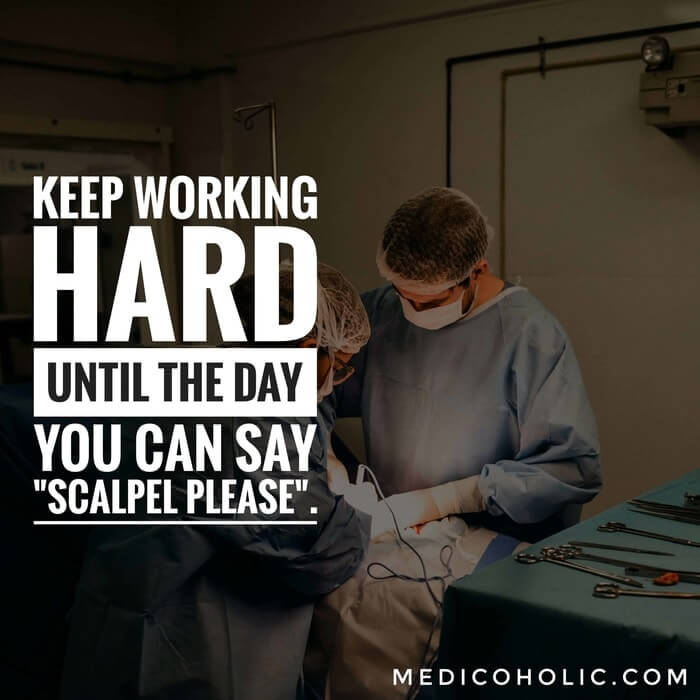 Not all angels have wings, some have stethoscopes.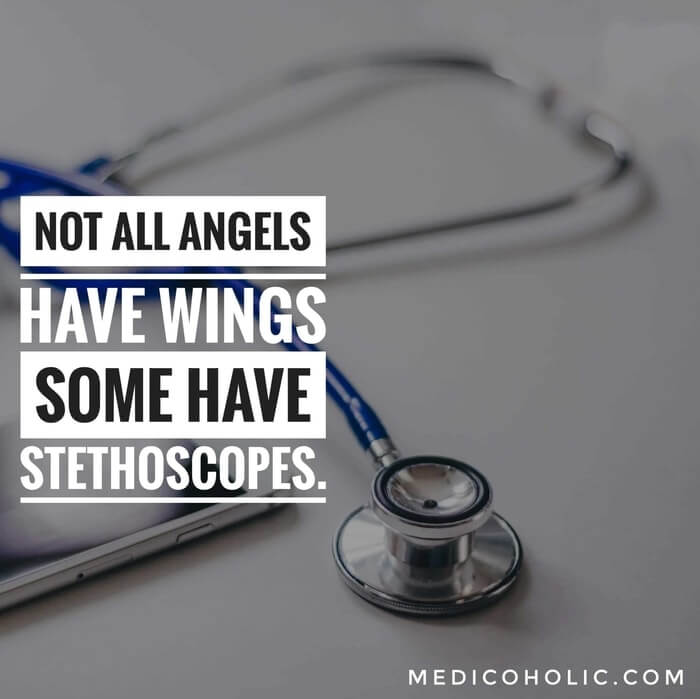 ---
Which quote is your favourite? Let me know in the comments!
Good luck Medicoholics! Until next time.
RELATED POSTS: