Medical education, with its plethora of books, intricate concepts, and rigorous clinical training, is undeniably challenging.
For aspiring doctors, the journey doesn't end with just completing their MBBS; they often have to cross further hurdles, like the FMGE (Foreign Medical Graduate Examination) or postgraduate medical entrance examinations such as NEET PG or NExT. This is where specialized coaching platforms like PrepLadder come into the picture.
NEET-PG is an eligibility-cum-ranking examination prescribed as the single entrance examination for admission to various MD/MS and PG diploma courses. It is a computer-based exam conducted by the National Board of Examinations (NBE) consisting of 300 multiple-choice questions (MCQs) with a single response. The duration of the examination is 3 and a half hours.
While FMGE and NEET-PG are conducted by the National Board of Examinations (NBE), NExT Exam will be conducted by the All India Institute of Medical Sciences (AIIMS), Delhi.
PrepLadder is a renowned online coaching platform tailored for undergraduate medical students. It offers comprehensive video lectures and question bank modules for major examinations like FMGE and NEET PG.
How To Get Maximum Discount On PrepLadder Subscription?
Now that NEET PG is being replaced by NExT, PrepLadder is launching their Elite subscription. It's a one stop tool to ace upcoming NExT examination covering Video Lectures, Clinical Question Banks and Test Series.
Use coupon code CLINICAL to get maximum discount and additional cashback on the PrepLadder Elite plans.
Log into the PrepLadder app or website.
Go to plan validity and select the premium plan.
Use coupon code CLINICAL to get flat ₹1500 off.
Finalise your purchase. 
PrepLadder Elite NEET PG Plans
PrepLadder Elite FMGE Plans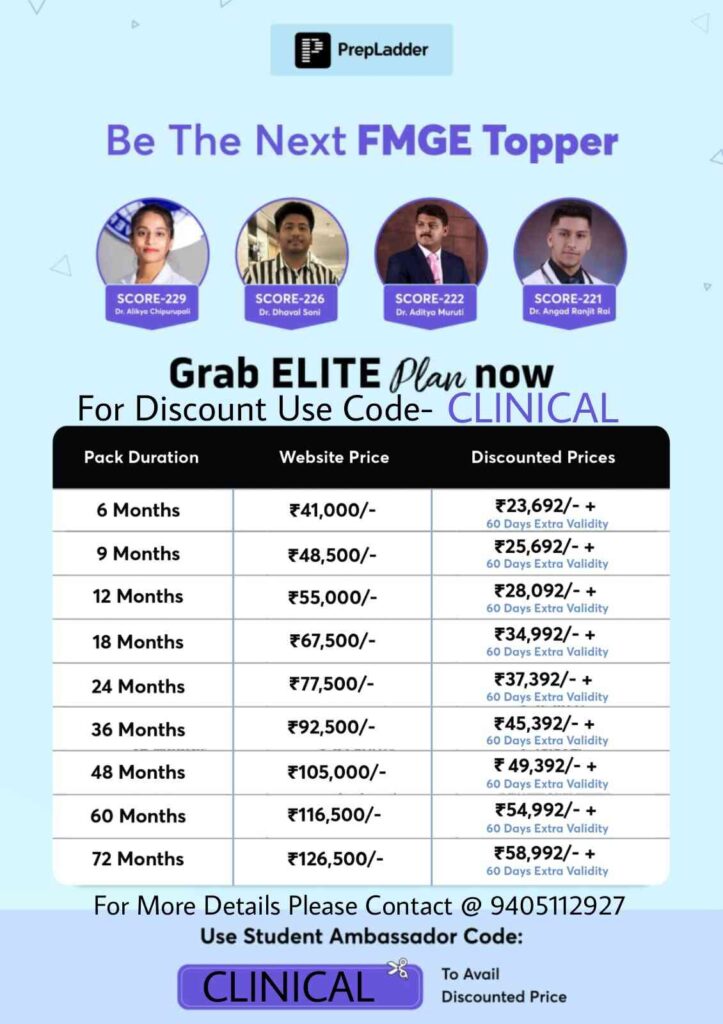 Benefits of PrepLadder Subscription
🎥 Video Lectures: Dive into engaging video lectures crafted by India's renowned medical faculty. Tailored to fit the NExT or NEET PG exam pattern, it's learning made both fun and fruitful. 🎓
📚 NExT Edition QBank: Gear up for NExT or NEET PG with their massive online QBank! With over 70% clinical questions, it's organized to perfection, ensuring you focus right where it matters. 🧠
📝 NExT Edition Test Series: Test your preparation with their full-length tests 📈, mirroring the NExT/NEET PG exam pattern. Each attempt is a step closer to mastery.
📖 Comprehensive Digital Notes: Immerse yourself in visually rich images and in-depth notes 📌, curated by India's top medical minds. Knowledge has never looked this good!
💎 Access Treasures and Custom Modules: Make your NExT or NEET PG prep as unique as you are! With 'Treasures' – bite-sized topic summaries 🧐, and Custom Modules 🎯 – curate your learning journey just the way you envision.
📊 Detailed Performance Analysis: Keep your prep game strong 💪! With their rank analysis, always know where you stand. And with their in-depth reports, every study session becomes a stepping stone to brilliance.
Conclusion
The path to becoming a doctor is paved with hard work, dedication, and the right guidance. With platforms like PrepLadder, students are better equipped to face the challenges of FMGE and NEET PG. As the world moves more towards digital learning, it's platforms like these that are setting the standard for what online medical coaching should look like.
If you're an aspiring medical professional, it might be worth giving PrepLadder a shot. After all, in the world of medicine, every edge counts.